Newborn Sleeping Problem from E. Meech
I have a very difficult newborn who may be colicky according to our pediatrician. As a first time mother this is extremely stressful and frustrating. The image in my mind of sweet evenings cuddling, reading bedtime stories, and rocking blissfully in the nursery are now laughingly unrealistic and have been replaced with the reality of snort-screaming, flailing tiny arms, and desperate pleas from my husband and I for the baby to relax.
Someone recommended this baby shusher to me and it sounded ridiculous but we've already spent hundreds of dollars on swings, rock n plays, and swaddles so what's $20 more, right? Holy cow. Why oh why does this thing work? I don't understand. I have read (and found truly helpful) "The Happiness Baby on the Block" and know that the "shushing" sound is soothing to babies but this silly little machine seems to be just the right frequency or speed or something that it actually calms my little devil down. We've found it the most valuable as a white noise to use once he's actually fallen asleep that allows me to do once impossible things like eat something with a fork or put on shoes. Just trust me and buy this thing.
It sounds ridiculous, like a recording of a person just shushing over and over again, but the ability to change the volume from very soft to what seems dangerously loud gives a wide range of possibilities and the automatic timer ensures you don't just live with that sound perpetually in the background. I do wish the timer could be extended for a little longer, but you can always restart it! If you're a tired parent it's worth the try, isn't it?
Introducing the Baby Shusher.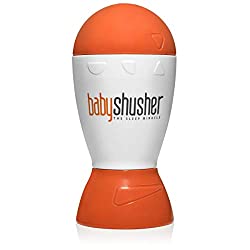 The Baby Shusher draws from different soothing method, which includes five steps (famously known as "the 5 Ss"): swaddle, swing, side or stomach position, shush, and suck.
Remember: in utero, babies are used to the sound of mom's blood flow, which makes a shushing sound louder than a vacuum cleaner! Newborns don't actually need or want silence to lull and keep them asleep. They're accustomed to the white noise of the womb, which is exactly what the baby Shusher provides. It uses a series of loud, rhythmic shushing noises to sound like someone is saying "shhhhhhhhh" in a long, drawn out way…over and over again.
From Amazon: